Grace Lorenz received the Best of Show ribbon for Axtell at the FKC Art Show this weekend! This ribbon means she had the best piece of artwork that was on display for Axtell.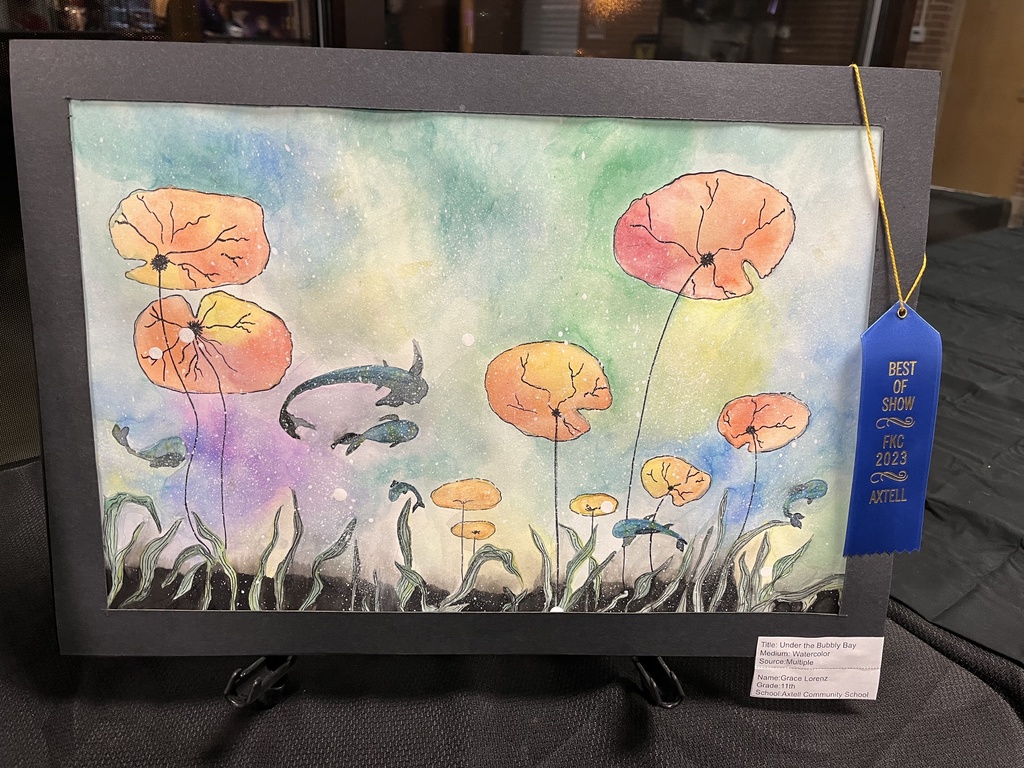 NOTICE OF MEETING AXTELL COMMUNITY SCHOOL Notice is hereby given that the regular meeting of the Board of Education of School District 50-0501 of Kearney County, Nebraska, a.k.a. Axtell Community School, will be held on Monday, February 13, 2023, at 8:15 a.m., in the Axtell Community School Library, which meeting will be open to the public. An agenda for such meeting, kept continuously current, is available for public inspection at the Office of the Superintendent. Please email Rob Gregory, superintendent, with questions:
rob.gregory@axtellwildcats.org
. Linda Almquist, Secretary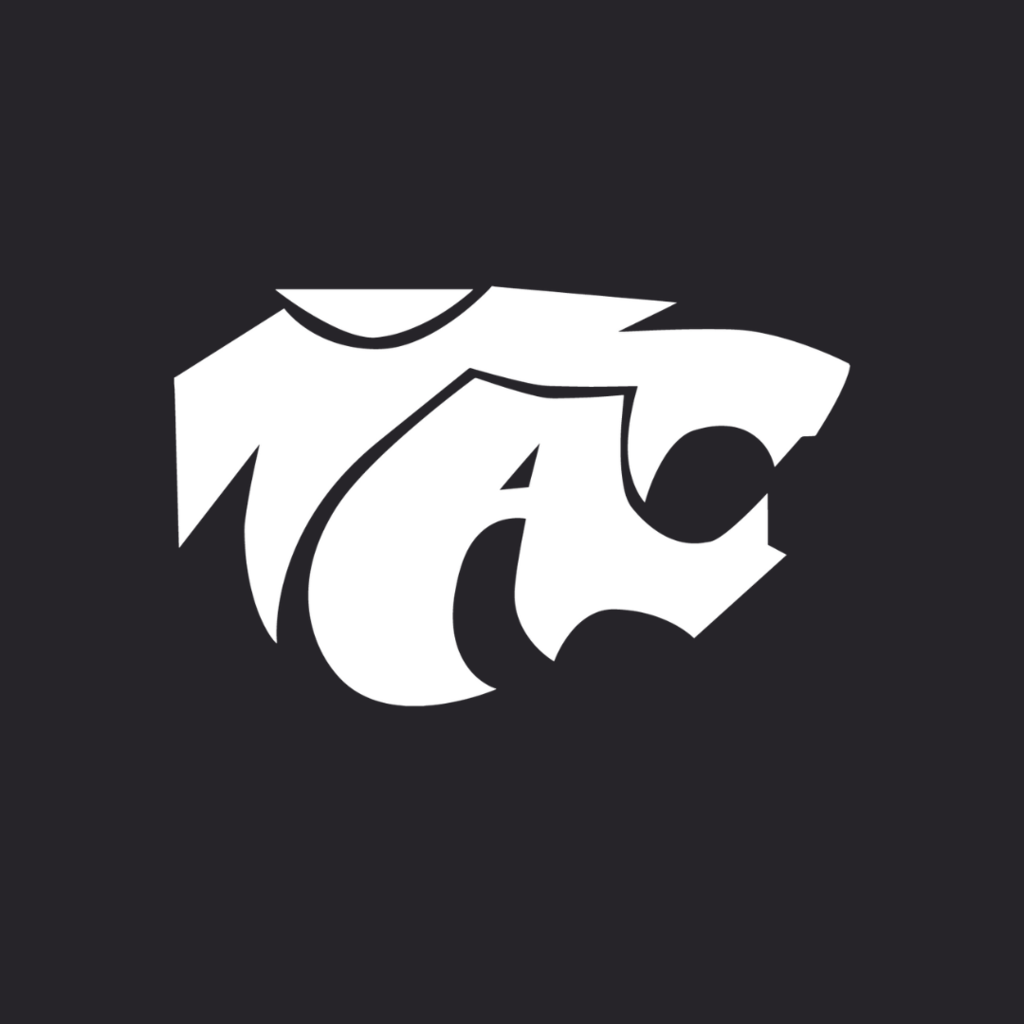 Good luck to the basketball teams today versus Loomis in Axtell. Junior high games begin at 3:30 PM, girls JV will play 2 quarters following JH game, girls varsity game begins at 6 PM, and boys varsity starts at 7:30 PM. #WildcatWay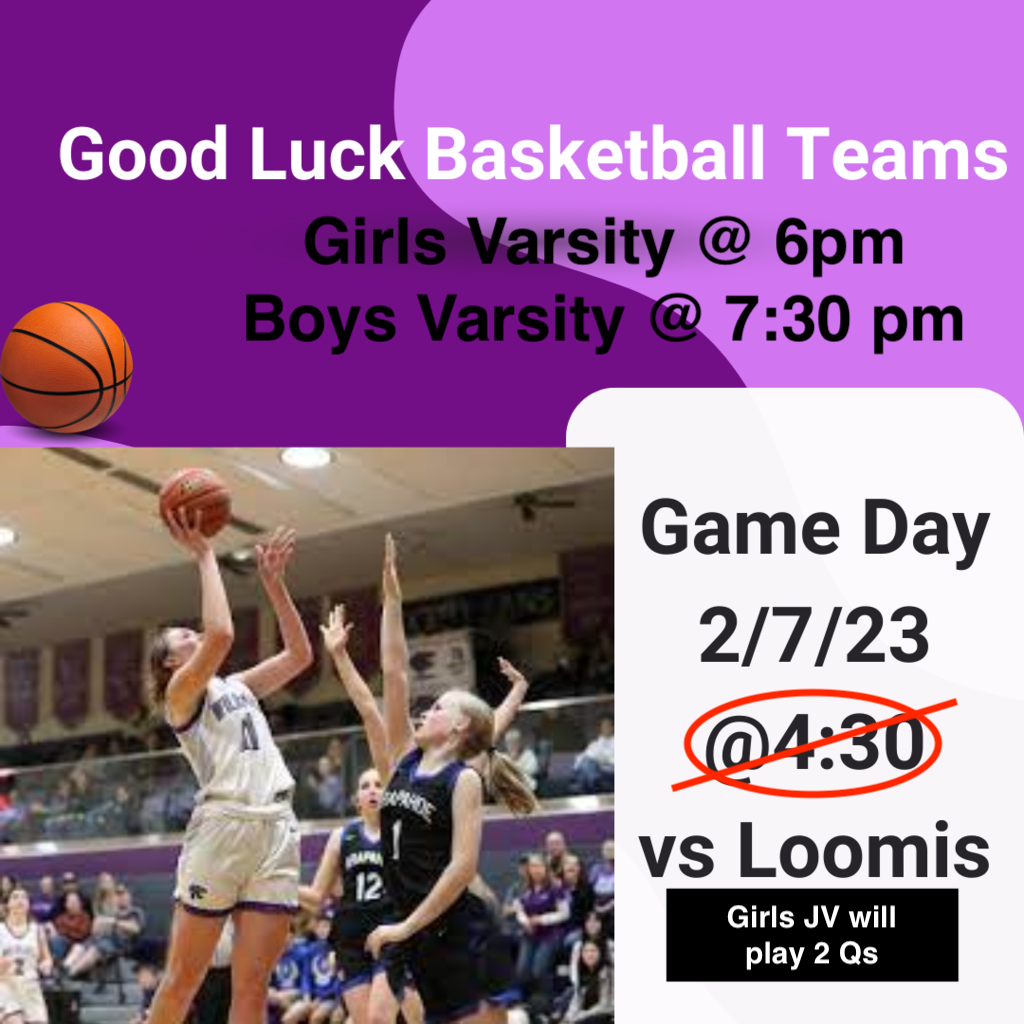 Jr High BB starts at 3:30 pm tomorrow vs Loomis. Girls A first

Today is Parent Teacher Conferences, parents please plan to attend. #WildcatWay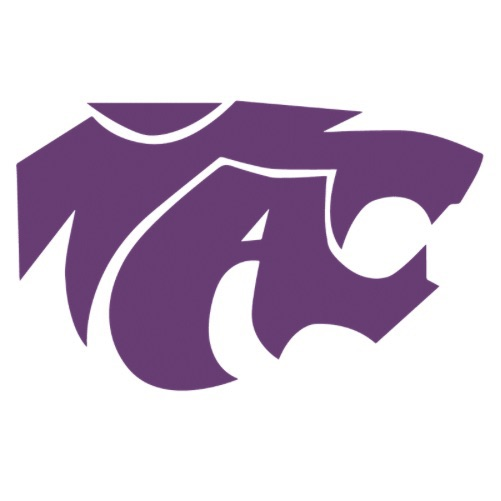 Friendly reminder of our Parent/Teacher Conferences and Open House tomorrow from 1:00 to 8:00 PM. Also, we will be hosting a free will donation hamburger supper from 5:00 to 7:00 PM. Please come join us.
No School tomorrow Monday February 6th! #WildcatWay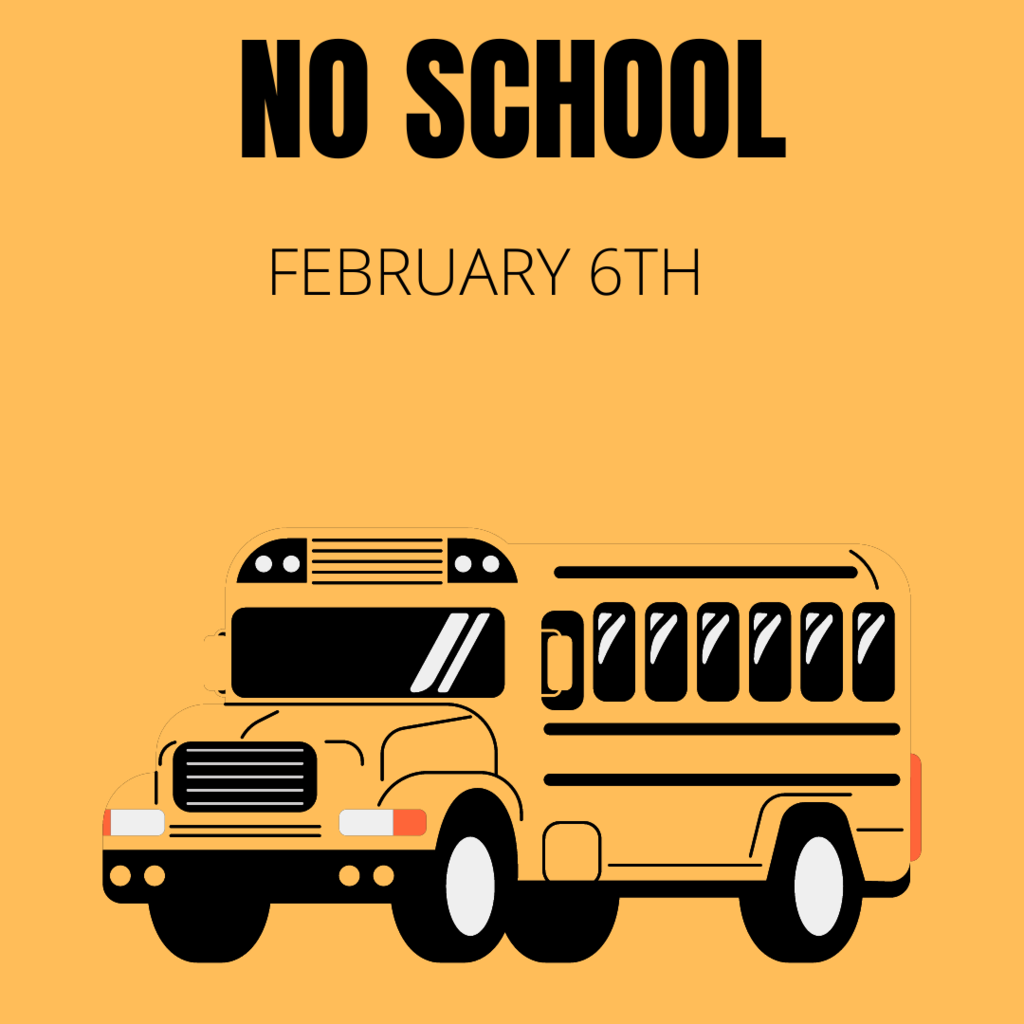 Here's this week's upcoming events! #wildcatway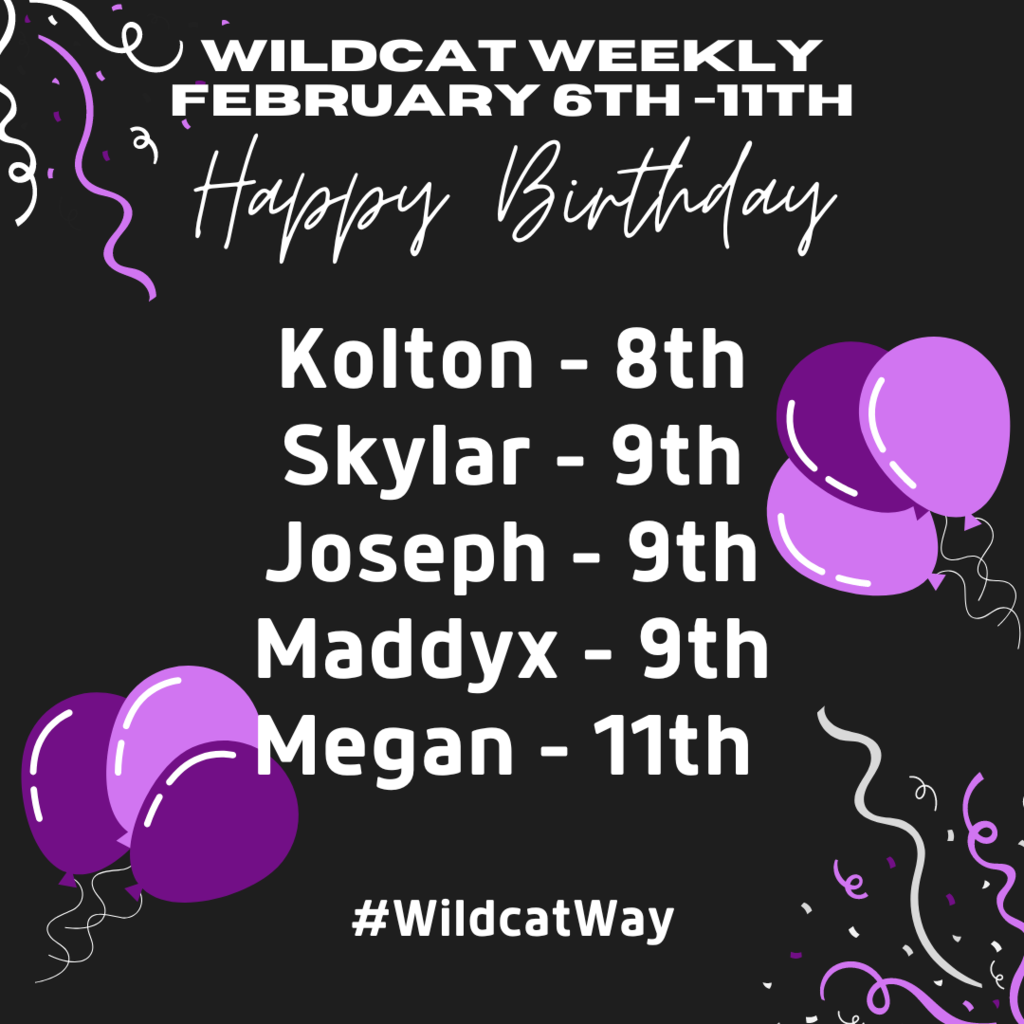 Pep rally to celebrate Axtell's Excellent AQuESTT rating from the Nebraska Department of Education for the 21-22 school year.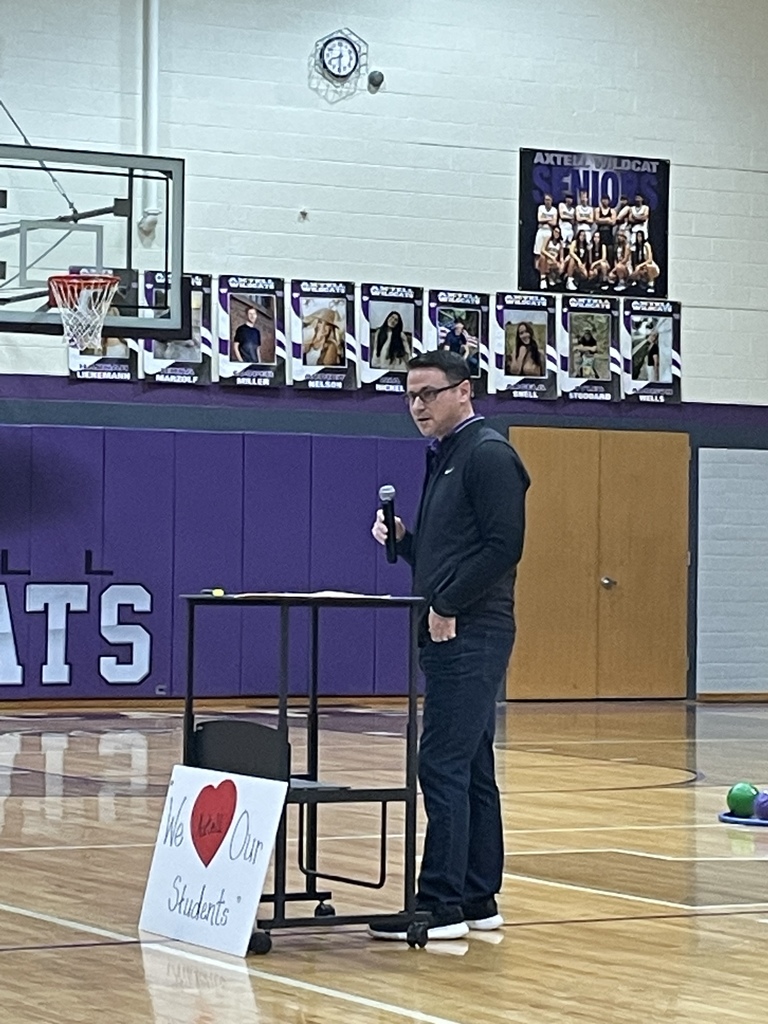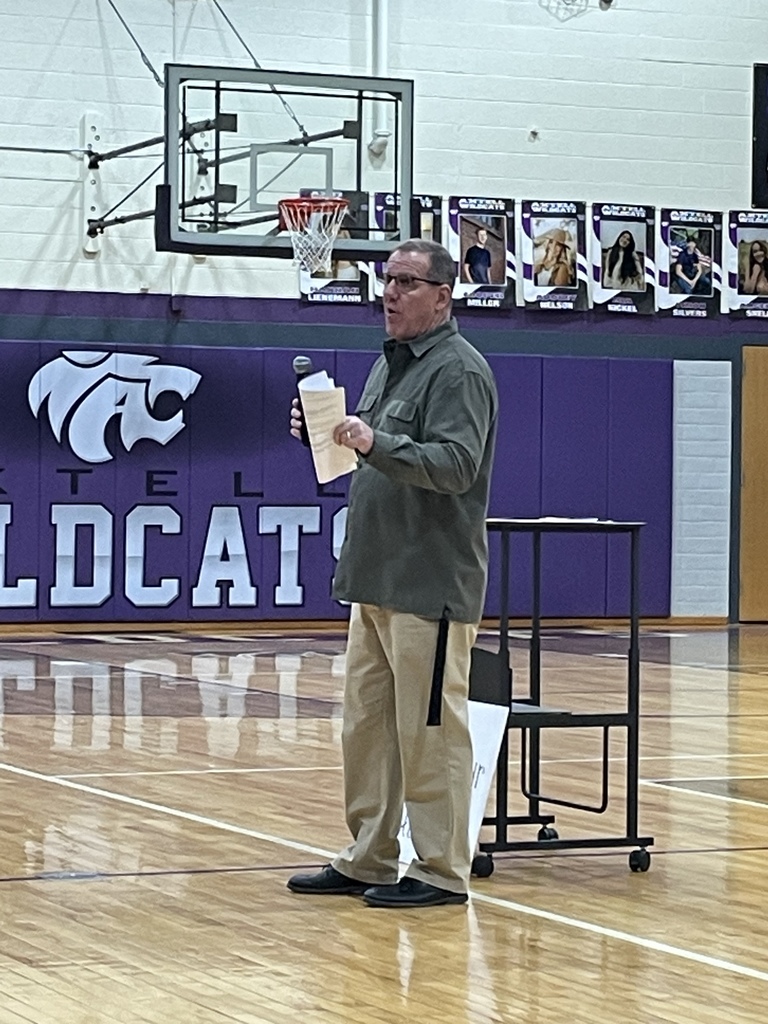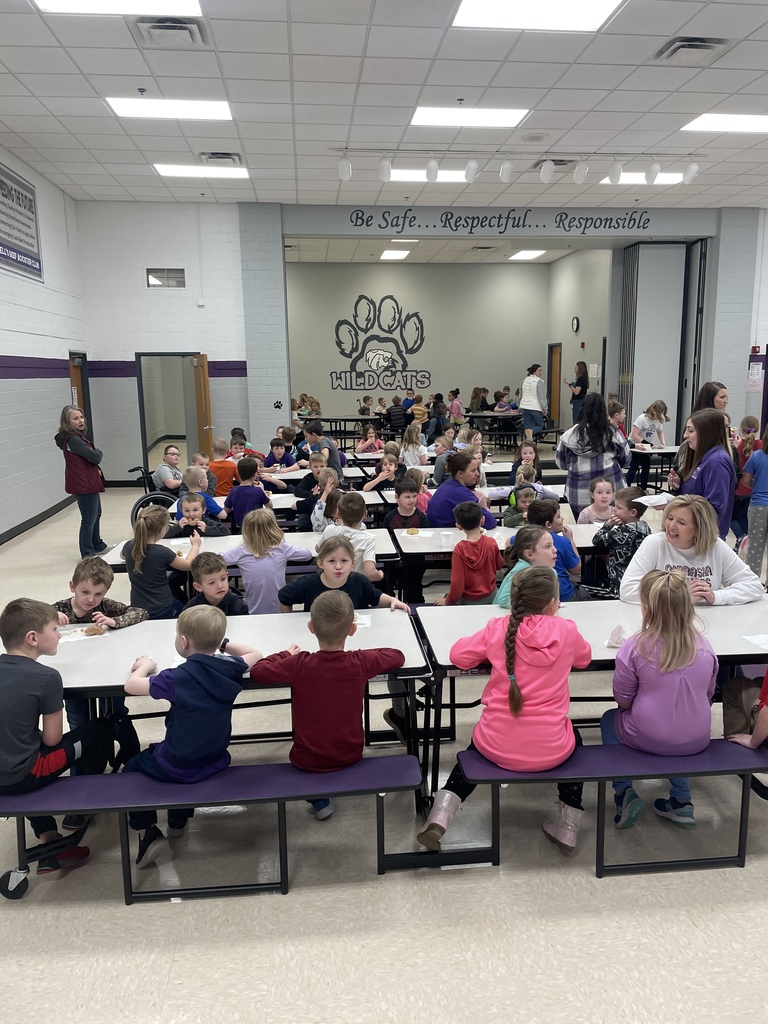 Axtell Community School - Board of Education Meeting Minutes - Board Retreat Minutes - Wednesday, February 1, 2023 @ Joy's Table, Kearney, Nebraska Next board meeting will be Monday, February 13 at 8:15 AM in the library.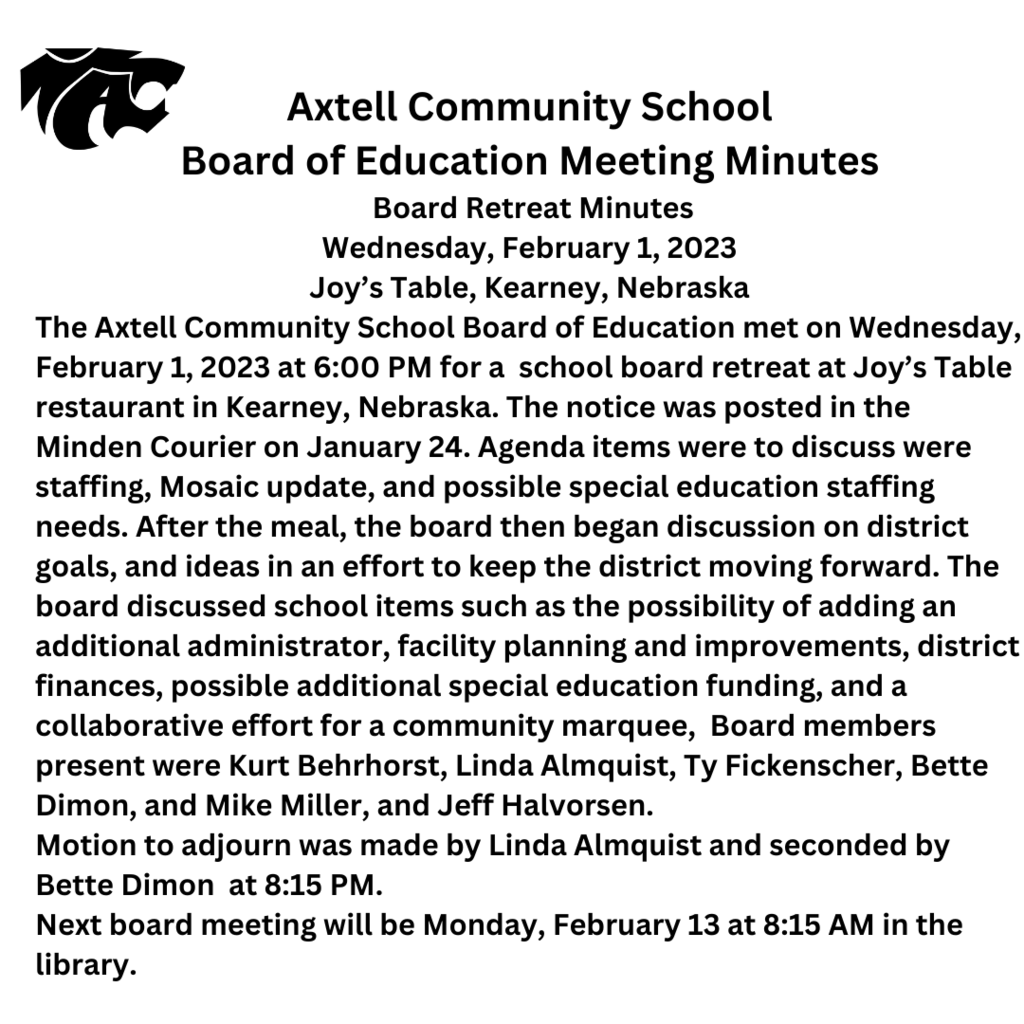 Good luck to the boys wrestling team as they compete in the FKC wrestling meet in Kenesaw, it will start at 9 A.M. #WildcatWay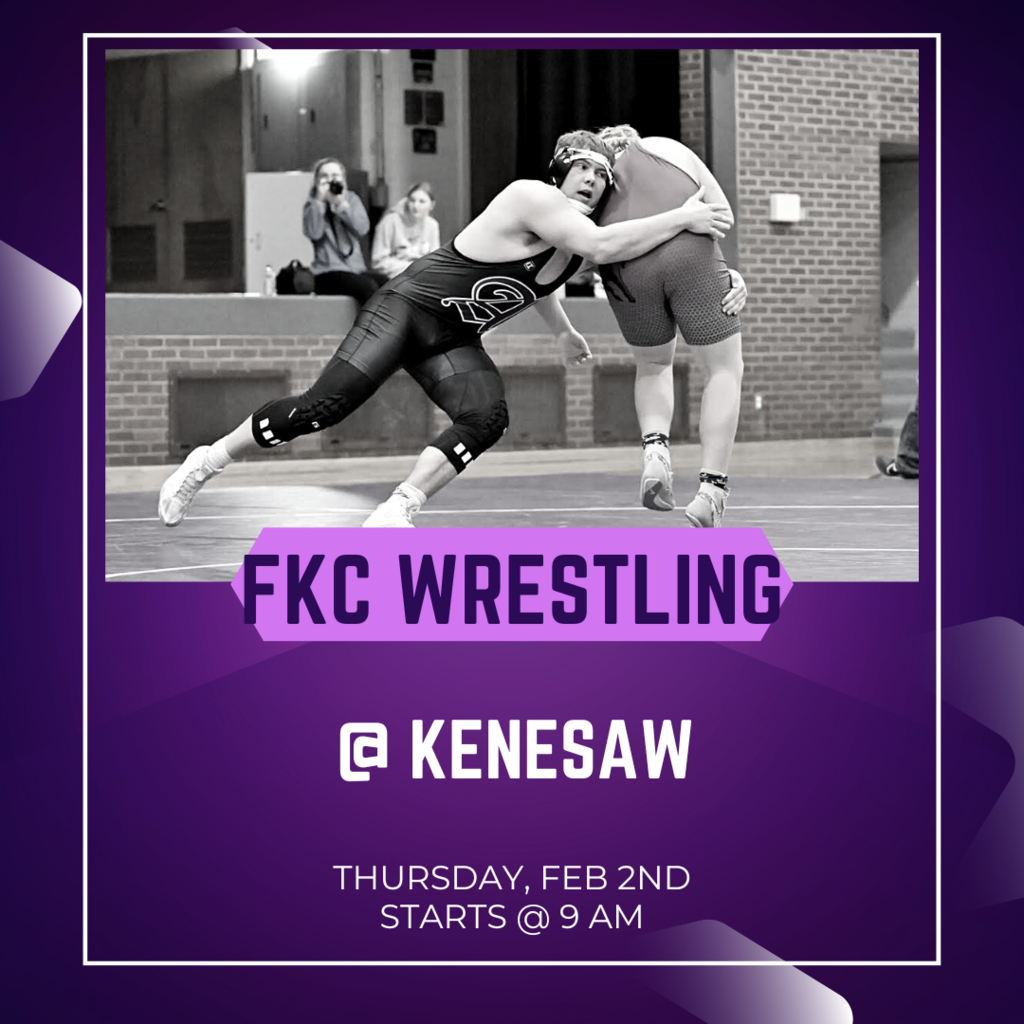 Good luck to the junior high basketball teams today versus Overton! Games start at 3:00 PM. in Axtell. #WildcatWay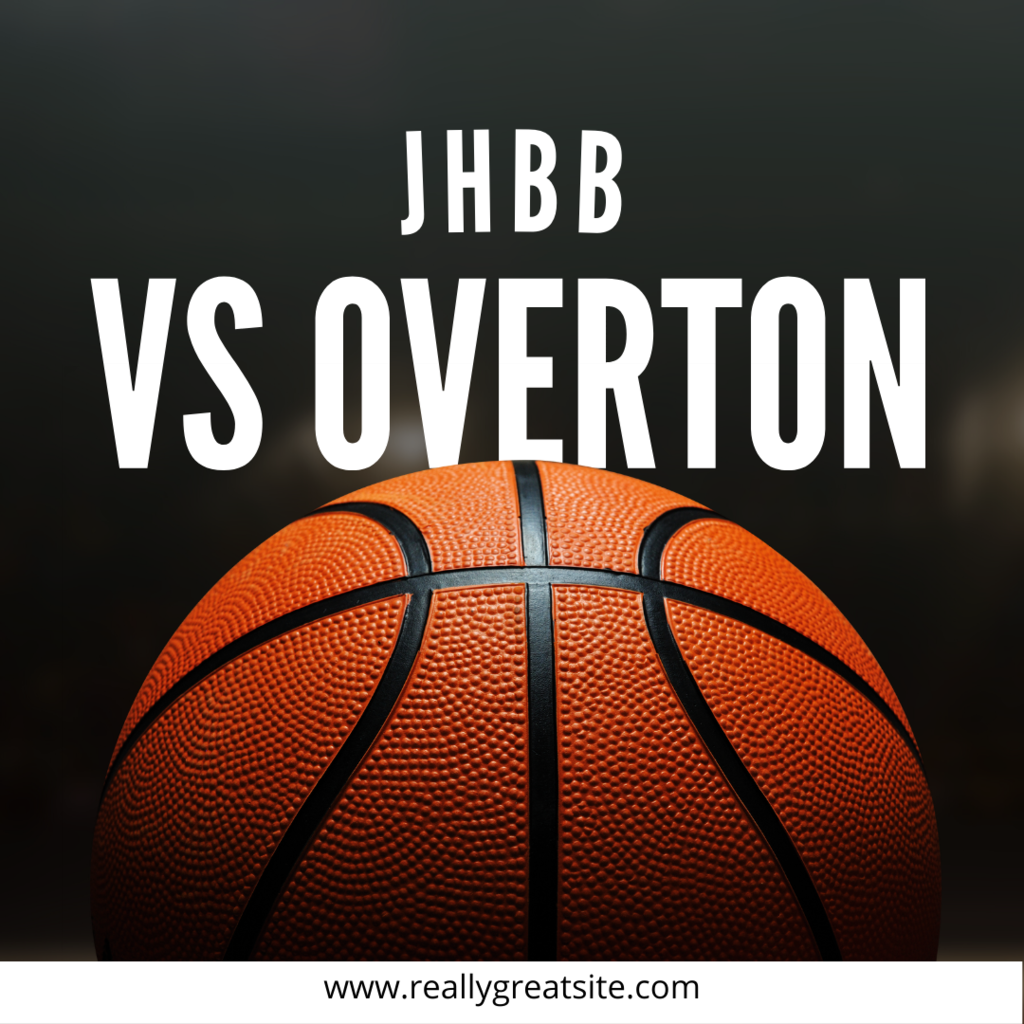 Good Luck to the Boys Basketball team as they compete against Elm Creek @ Elm Creek in the second round of FKC! Game will begin @ 7:30. #WildcatWay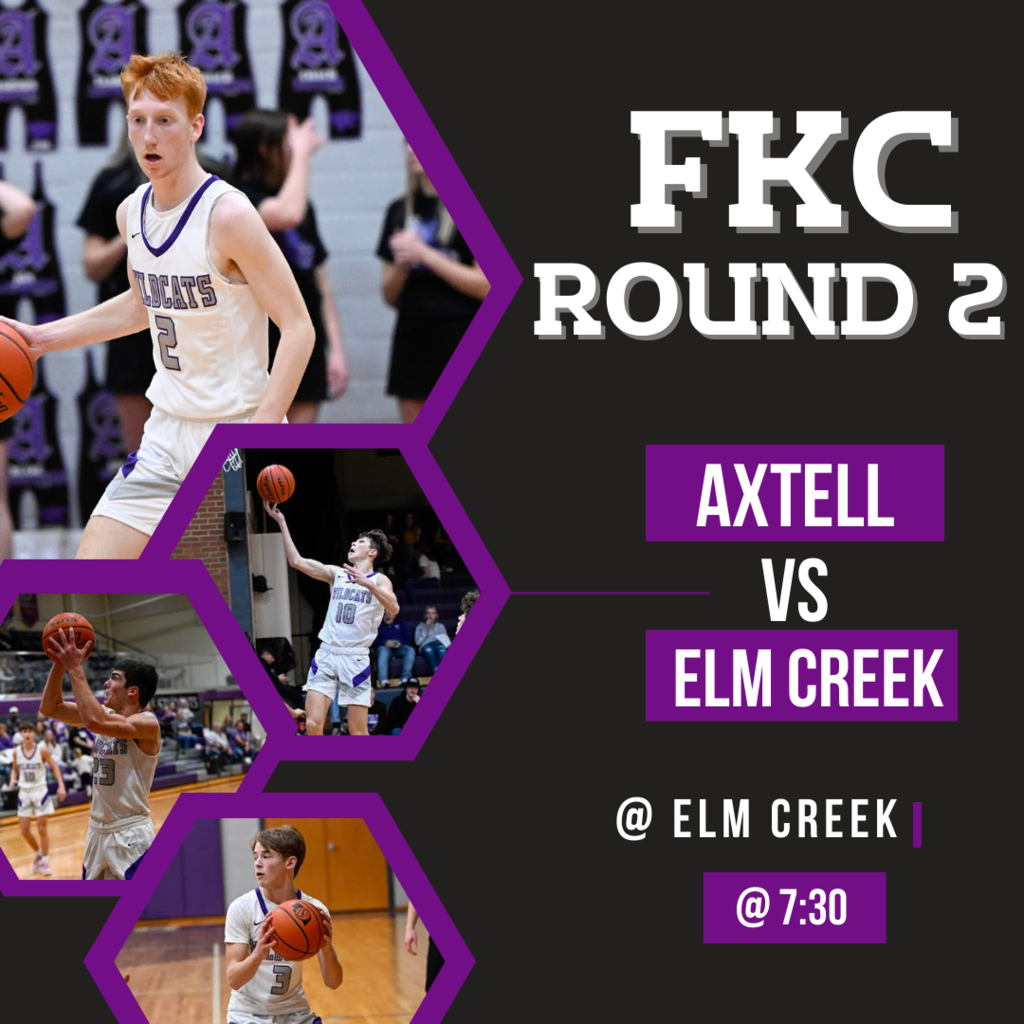 FBLA's Dime Wars is in full swing and will END this Friday, February 3rd! Great job so far students, but keep making those donations! Here are the standings as of now!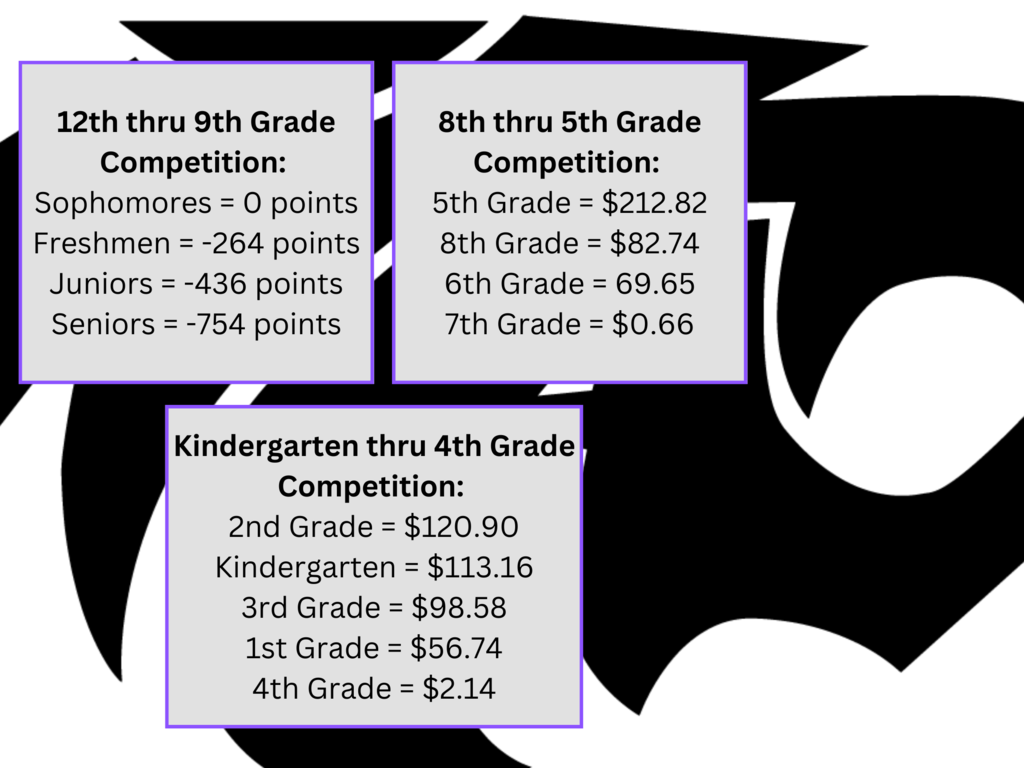 ESPN Tri-Cities Radio KXPN 1460AM/92.1FM and KICS 1550AM/92.7FM will be broadcasting the Tuesday, 1/31 Fort Kearney Conference Tournament Boys Quarterfinal Basketball Games between SEM and Loomis and between Elm Creek and Axtell.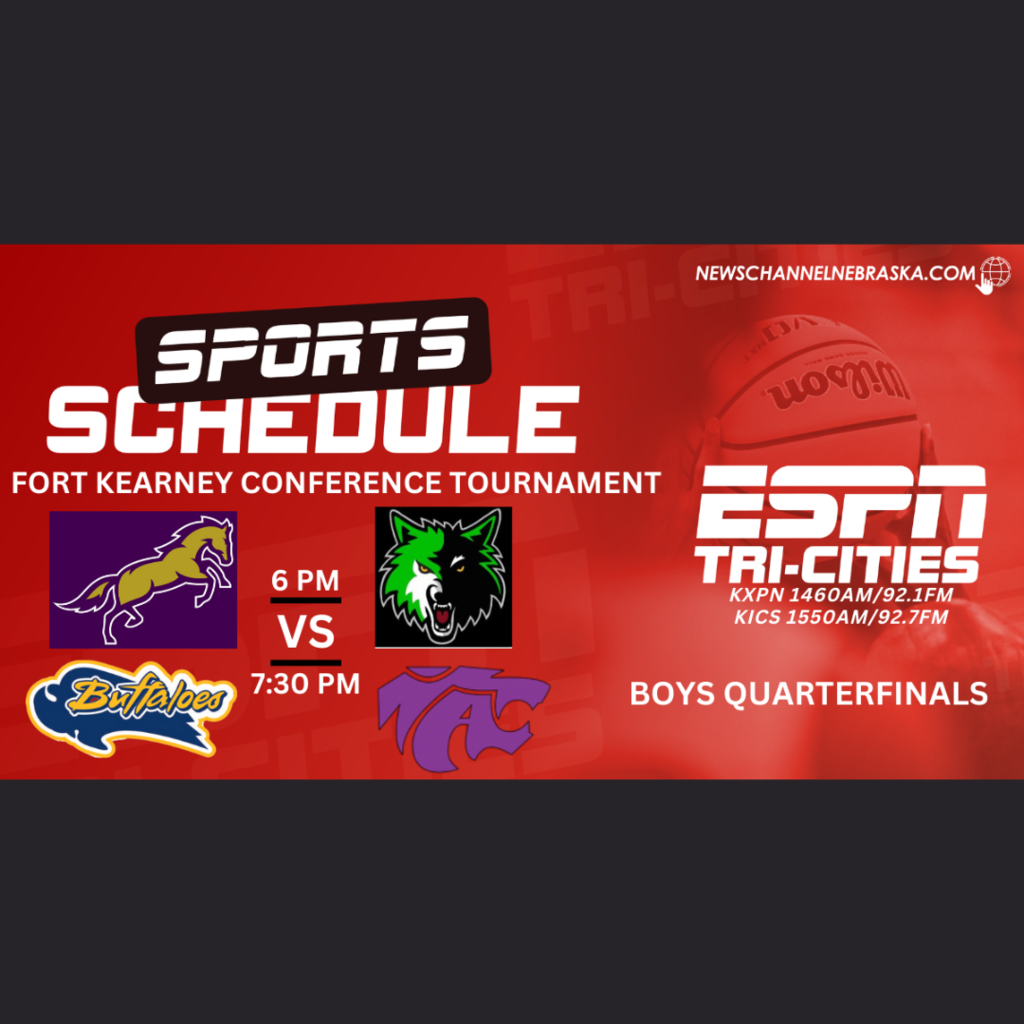 Axtell FBLA Dime Wars Competition is in it's final week - competition ends FRIDAY! Money donated during the competition is given to the March of Dimes, which was created by Franklin D. Roosevelt. Check out this video of Robert Tidwell portraying Franklin D. Roosevelt sharing his reflections from his experience as president of the U.S. and his role in establishing the March of Dimes.
https://www.c-span.org/video/?c4998842/franklin-d-roosevelt-reflections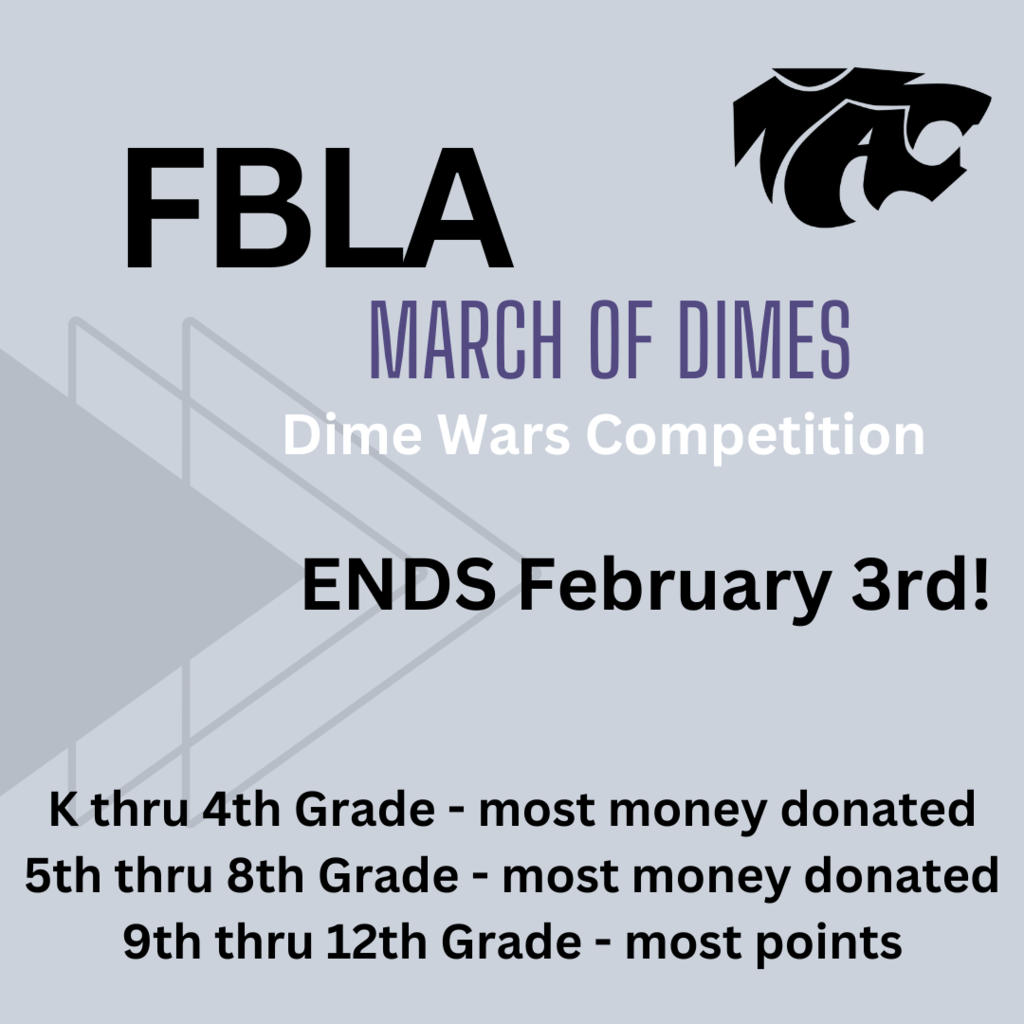 Good luck to the Girls basketball team on their second round of FKC tonight! They will be playing SEM @ Sumner. The game will begin @ 7:30 p.m. Go Cats!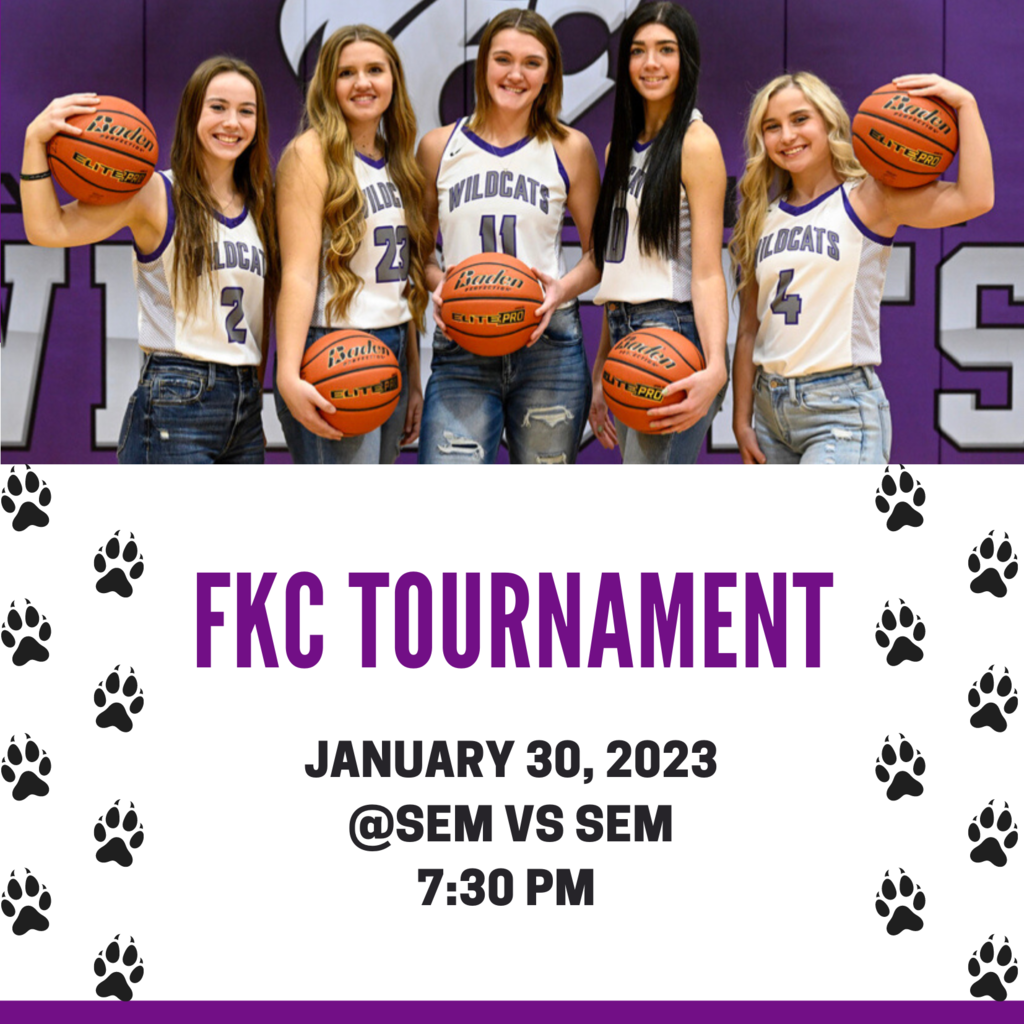 Here is this week's upcoming activities! #WildcatWay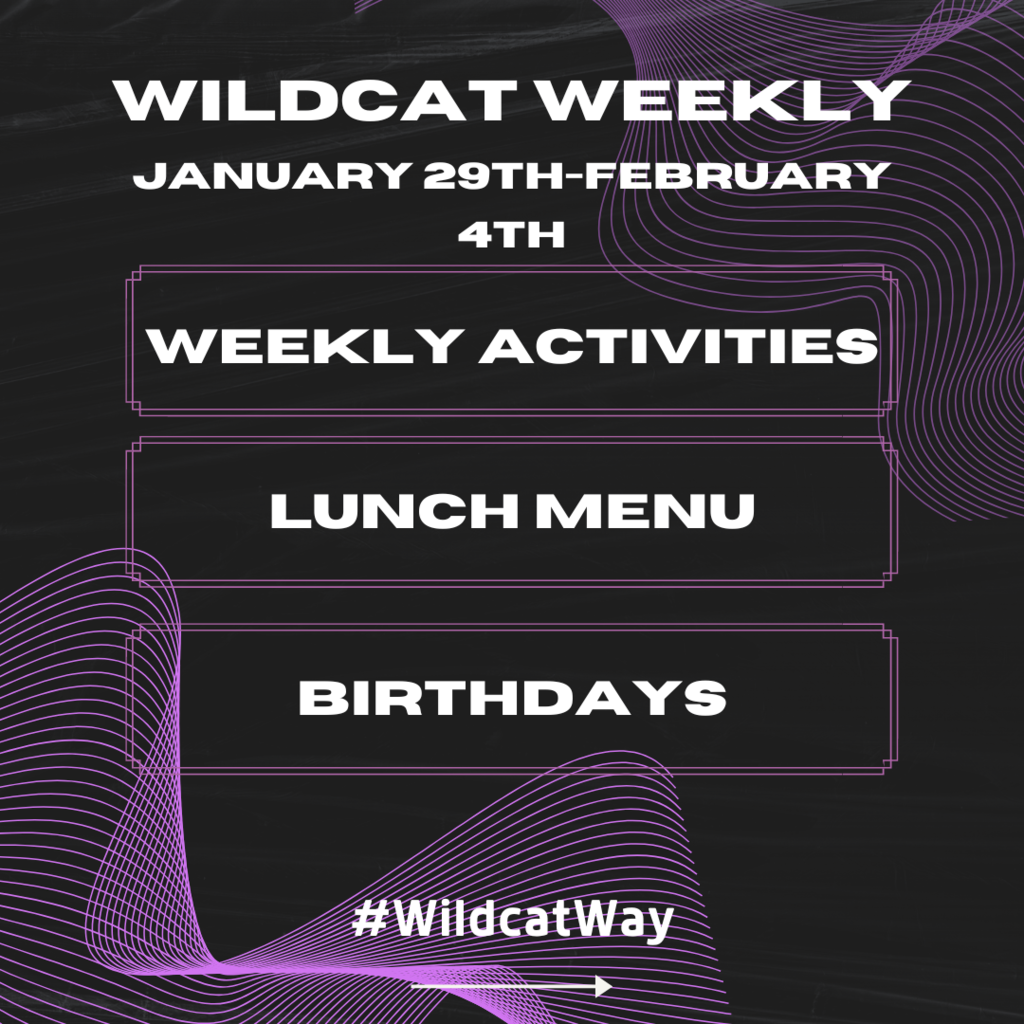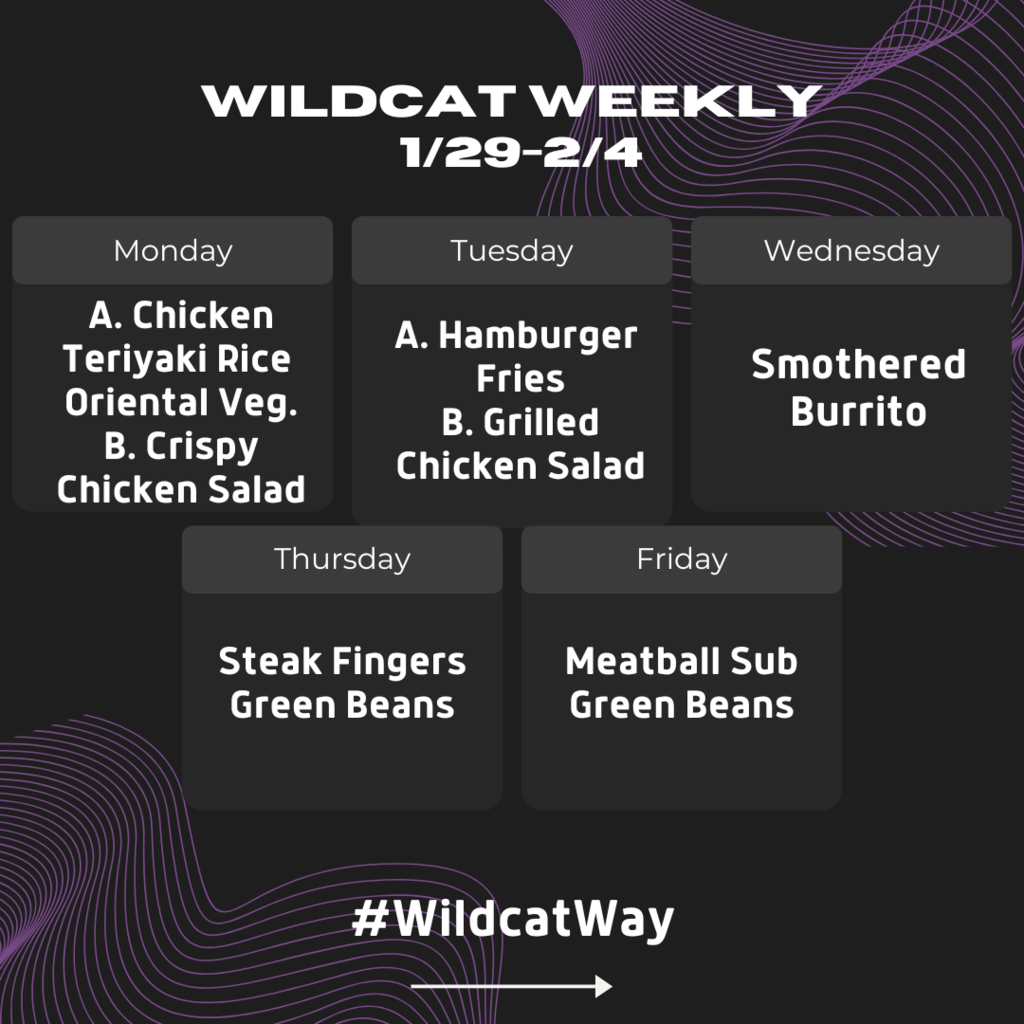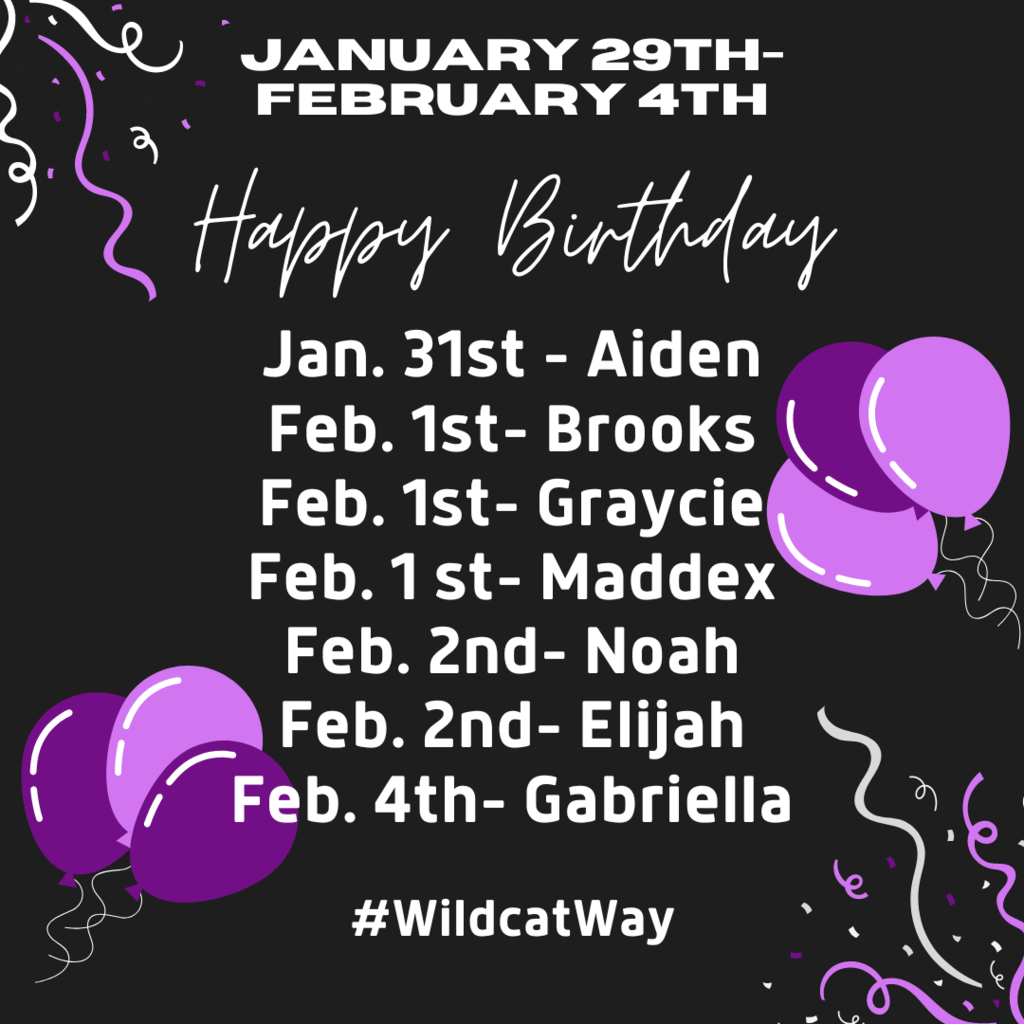 Good luck to the girls and boys basketball teams as they play their first round of FKC. The girls will play Hi-Line at 4 p.m, and boys will play Wilcox-Hildreth at 5:30 p.m., both games will be in Axtell. #WildcatWay